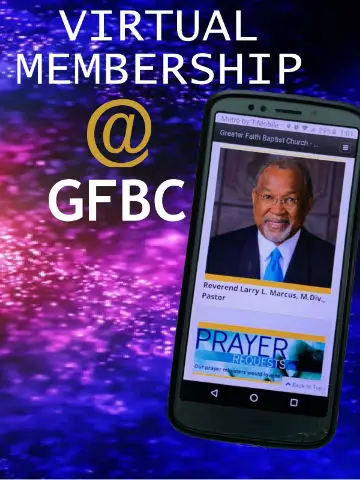 Virtual Membership
Virtual membership is an excellent opportunity for Greater Faith Baptist Church to "extend the reach" of the gospel of Jesus Christ. In-person church attendance is not always possible. Our desire is to provide a connecting medium for persons who may not be a part of any local congregation and or may not be actively connected with any Christian church. If you are unable to attend church in-person at a weekly service, we extend to you an invitation to become a virtual member of Greater Faith.
Your virtual online connection will provide you with biblical preaching, an exciting worship and praise experience, online growth studies on Monday and Tuesday nights via Zoom at 6:00pm which are designed to mature you in your faith journey. You can also join us in worship and praise via Facebook Live, Sunday's at 10:45am by going to: Greater Faith Baptist Church's Facebook page located in Philadelphia, PA or you can visit our website on Sunday's at 11:00am at: www.thegfbc.org.
Distance is not an issue when you are able to connect with us via Live Streaming. You can also send us your prayer requests and keep us posted on the exciting things happening in your life by sending us an email at gfbc@verizon.net or call us at: 610-713-5914. We are excited and looking forward to having you become a virtual member of Greater Faith Baptist Church in Philadelphia, Pennsylvania.

Some examples of reasons for Virtual Membership:
You may be restricted

You may have relocated and have not yet found a home church

You may be a college student living on campus away from home

You may have an occupation such as, a truck driver, a military person, and or a seaman

You may have an occupation with none-traditional hours

You may not be physically able to attend worship but you can be actively a apart of the Greater Faith worship experience

You may be in transition in your life at this time such as: nursing home, rehabilitation facility, incarcerated, and or unsheltered

I am interested in being a virtual member of GFBC
Enter the details below and we can send you information regarding Virtual Membership